#EveryBodyStep
This summer, you can be part of something truly amazing. Together, we will take hundreds of millions of steps whilst collectively raising vital funds that will change the lives of those living with and at risk of diabetes.
Every stepper has a story to tell
Whether it's to get fit, lose weight or for the love of stepping, your story is part of our fight for a world where diabetes can do no harm. Share your story using #everybodystep and help inspire others to step towards a healthier future.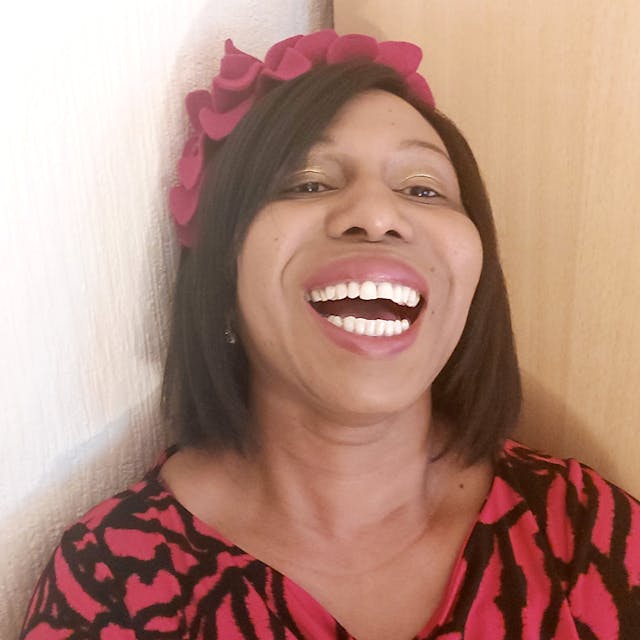 Bupe, 2020 Stepper
"I don't know if I was naive - I just thought that diabetes would happen to someone else. In the end I accepted the prescription, but I could only bring myself to take half the dose. I changed the way I was living immediately, I started walking a lot more and I replaced all the sweet and fatty things in my diet with healthier choices like chicken, fish and vegetables. I stopped drinking glasses of juice and sweet cocktails and started making iced water with mint leaves to keep in the fridge. It was great to have a daily step target because you might finish your day and see that you are only on 5,000 steps, so you know you need to go out and walk some more. Sometimes if I needed to get a few more steps and it was raining, I would walk on the spot while watching videos. You can also link your Fitbit to the steps platform, so you see your step total rise every day. The One Million Step challenge was like being thrown a lifeline for me. Because you don't have to be an athlete. You just had to make the commitment to put one foot in front of the other and keep going. Increasing my activity levels was the best thing I did. I had always avoided exercise because I thought it would make me tired, but actually exercise made me feel good, awake and more fresh. I found myself really looking forward to getting outside. I started listening to music in my headphones. That was a total joy. I found myself really looking forward to getting outside daily."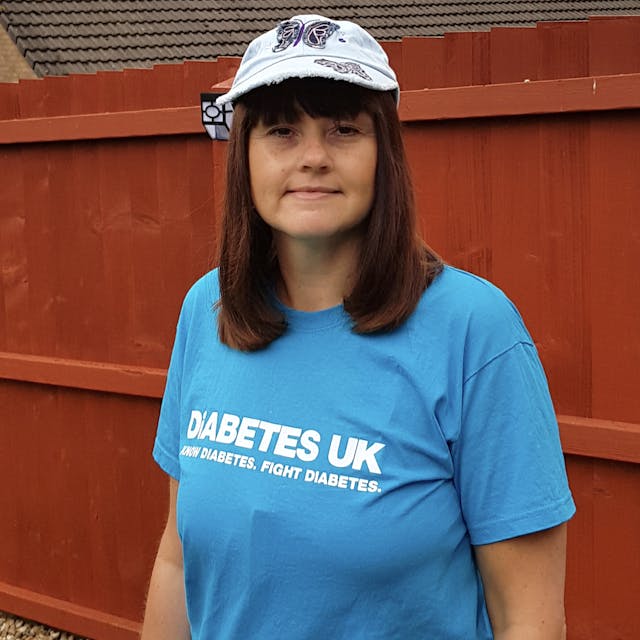 Elizabeth, 2020 Stepper
"When I saw that Diabetes UK was running a fundraiser, I thought 'that's something I want to help with.' I didn't know if I was up to walking one million steps, but I really wanted to prove something to myself. The challenge felt important to me because diabetes has had such a terrible impact on our family, but also because my experience of diabetes has been so different to my dad's. If you look at the advancements in medicine, self-management, and also awareness, you can see things have changed a lot. If my dad had the benefit of those things, I think he would have lived longer. So I wanted to raise funds to help other people with diabetes live better lives too. I thought about it a lot, I was worried I wouldn't have enough energy to walk 10,000 steps a day. But in the end, I decided you have to live and learn. It's not a test. I thought, even if I try and fail, I will have been more active. It went so much better than I thought it would, and every time I went out walking, I felt happier and more awake. I ran into people I hadn't seen for years and I also went on walks with friends so it was actually quite social. When I went back to work I kept it up; I would take my dog out early in the morning, and make sure I always took the stairs."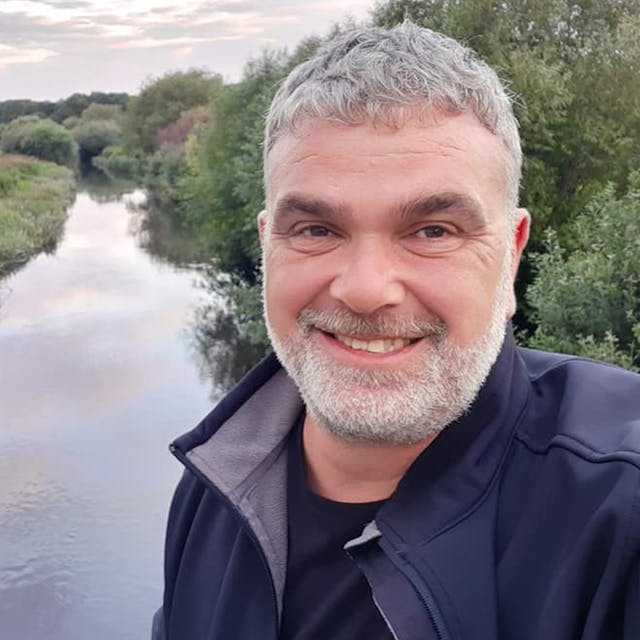 Steve, 2020 Stepper
"At first, everything seemed daunting. I knew that I'd need to reduce the amount of stress that was in my life, get more sleep and sort my eating out. But changing the habits of a lifetime doesn't come easily. I came to see that by doing small things, bit by bit, I could start to take control. Through the increased walking and better eating, I've lost about a stone, and I feel so much better in myself."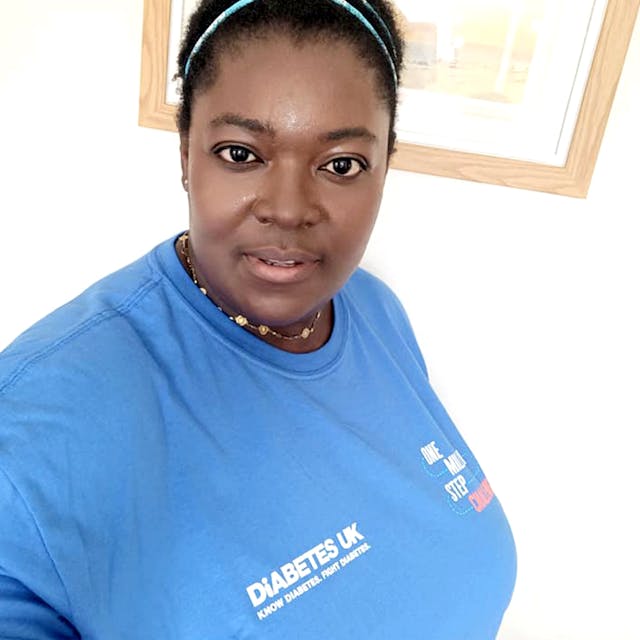 Taicy, 2020 Stepper
"I have realised that it is health, not a dress size that matters. And to be healthy, I don't need a crash diet or complicated workout plan that means living in a completely unrealistic way. I now see it is about healthy habits and regular activity that fits into my day, around my family, and reflects who I am. I am not eating some crazy diet, just reducing portion sizes, eating more vegetables. As a family we are making little changes and forming healthy habits that will make a difference in the long run. And importantly, we are enjoying the process."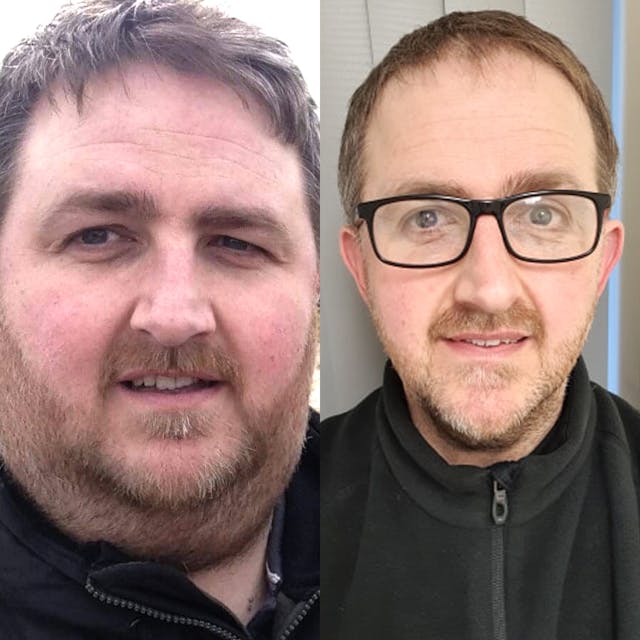 Grant, 2020 Stepper
"I wasn't shocked to get a diagnosis of type 2 diabetes, because in many ways I saw it coming. But with a busy career and family life, I just didn't find room to think about what I personally could do to manage my health. I just got the prescription and took the medication. I think maybe there was a bit of denial. When coronavirus happened in March, I thought, 'I need to reduce my risk factors' and that kept me going. There was something about the change of your normal day-to-day habits in lockdown that meant I was making different choices. I was working from home, so making more sensible decisions around food, and I was getting out for some decent walks. I was already doing about 10,000 steps a day at that stage. By the first of July I had lost just under five stone. I was delighted, but I still had a way to go and I knew that consistency had been the thing that had let me down in the past. I saw the advert for the One Million Step Challenge on Facebook, and I thought maybe that would keep me focussed. I really wanted to keep on walking every day, and steer clear of the local bakers! For a lot of people 10,000 steps in a day is not big deal, but doing it consistently every day, rain or shine, that's the commitment."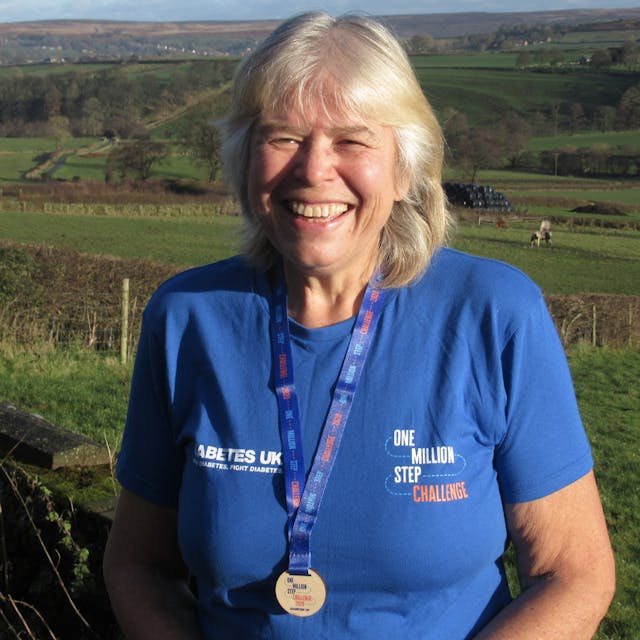 Jan, 2020 Stepper
"We're really lucky because where we live is so beautiful. The views are just amazing. I would wake up every day and think 'where will we walk today.' It really lifted our spirits and got us through all the difficulties of lockdown. We'd pack up a thermos of soup and an apple, maybe sit on a bench and just chat. There were days when I didn't fancy it, but my husband was great - he'd always encourage me. And as soon as you're out, you're glad you've gone. Even in foul weather, you just get your waterproofs on and get out in the fresh air. It's deepened our relationship, walking with someone makes you feel so much more connected to them. I look at my lovely husband and I think, I am so blessed to have this wonderful man to chatter with. We know his cancer is serious, but we're making sure every day is a bonus. My body has changed and I feel so much fitter and stronger. I feel so much more confident, because I have committed to something and made it work."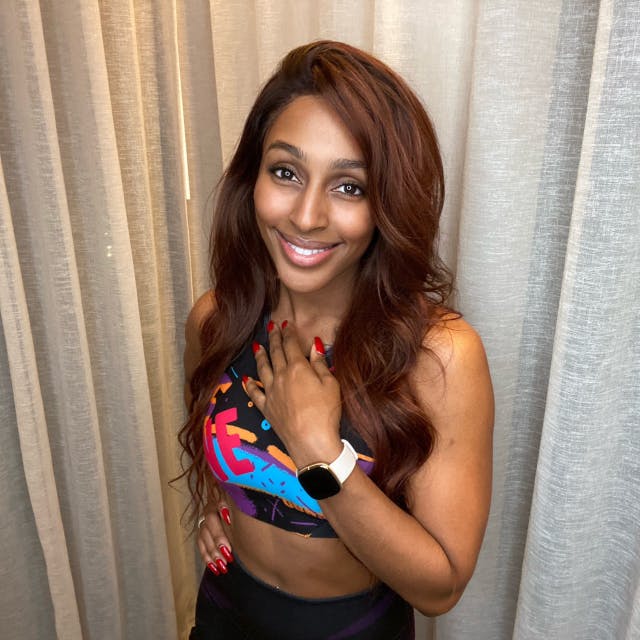 Singer & actress and Diabetes UK ambassador Alexandra Burke shares her story and why she's supporting the One Million Step Challenge with Fitbit.
"Like so many others, Diabetes runs in my family. Since my beautiful mum sadly passed away almost 4 years ago, suffering from hereditary diabetes mellitus and kidney failure, I wanted to do as much research into the disease as possible. Most women in my family – my beloved mum, grandma and great grandmother - have had to cope with diabetes throughout the generations so I'm very aware that it is something that could impact me in the future. I have been comforted to learn that research shows that by leading a healthier lifestyle we can all either delay or prevent the risk of developing diabetes altogether.
With this in mind I proudly became an Ambassador for the charity Diabetes UK to try and highlight the incredible work they do and, in my small way, help to spread their informative research findings as far and wide as possible. Given my family's history it is a commitment that I hold very close to my heart.
I'm excited that Diabetes UK, with the Support of Fitbit, are encouraging individuals to lead a healthier lifestyle by launching the 'One Million Step Challenge' this summer! All you have to do to take part is complete 1,000,000 steps across three-months. By asking for sponsorship this will not only help raise awareness but also much-needed funds for Diabetes UK. Plus, you'll motivate not only yourself but encourage those around you to lead a more active lifestyle too. Come on, we can do this together for a better, healthier, happier future for everyone." Congratulations on completing the One Million Step Challenge.
Your page will remain open until the end of October to collect donations and log steps. Thank you for an incredible year.